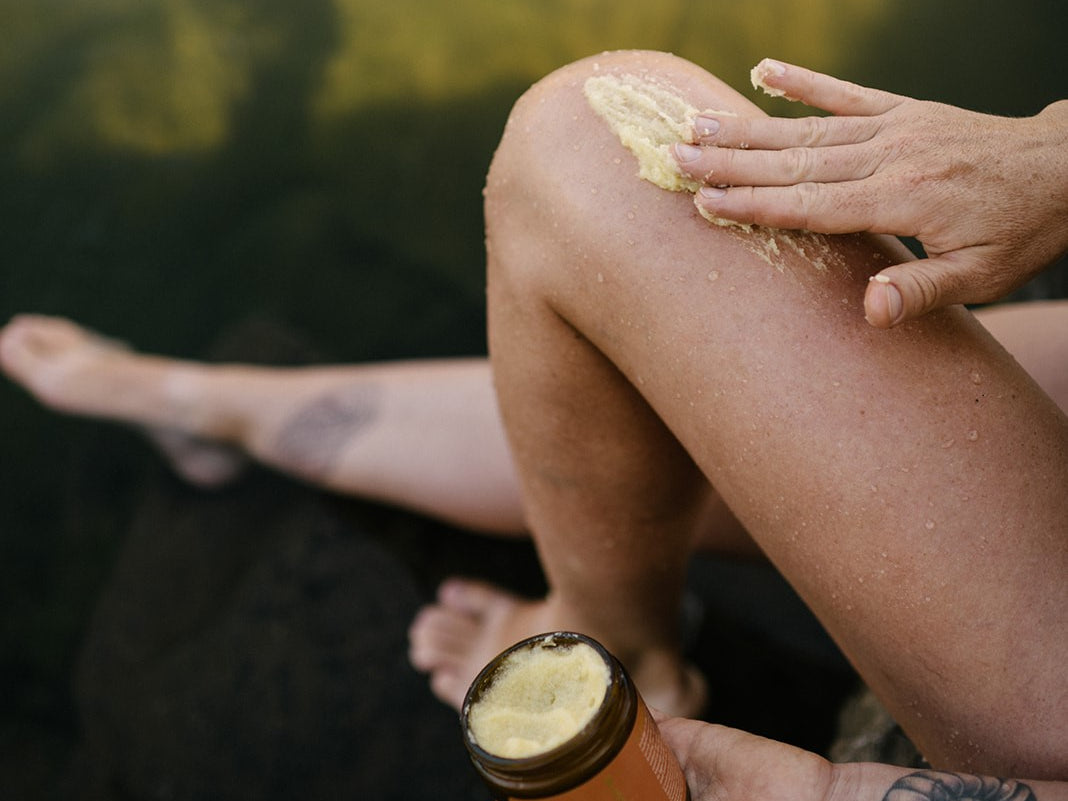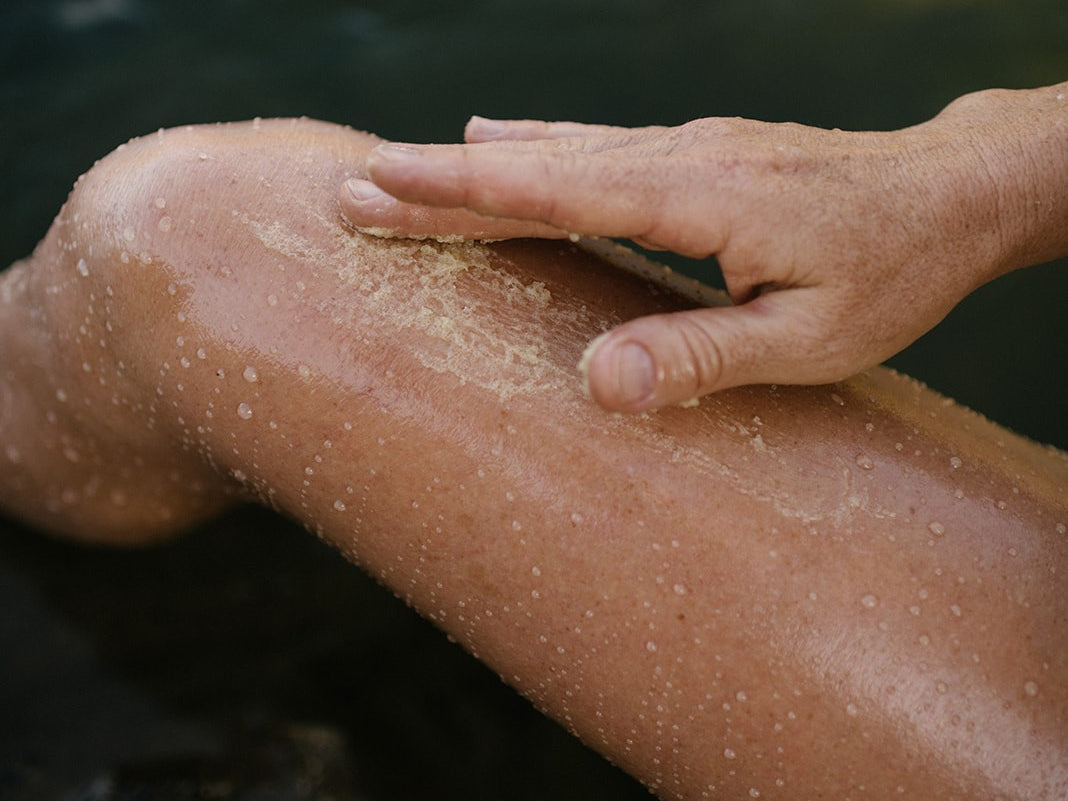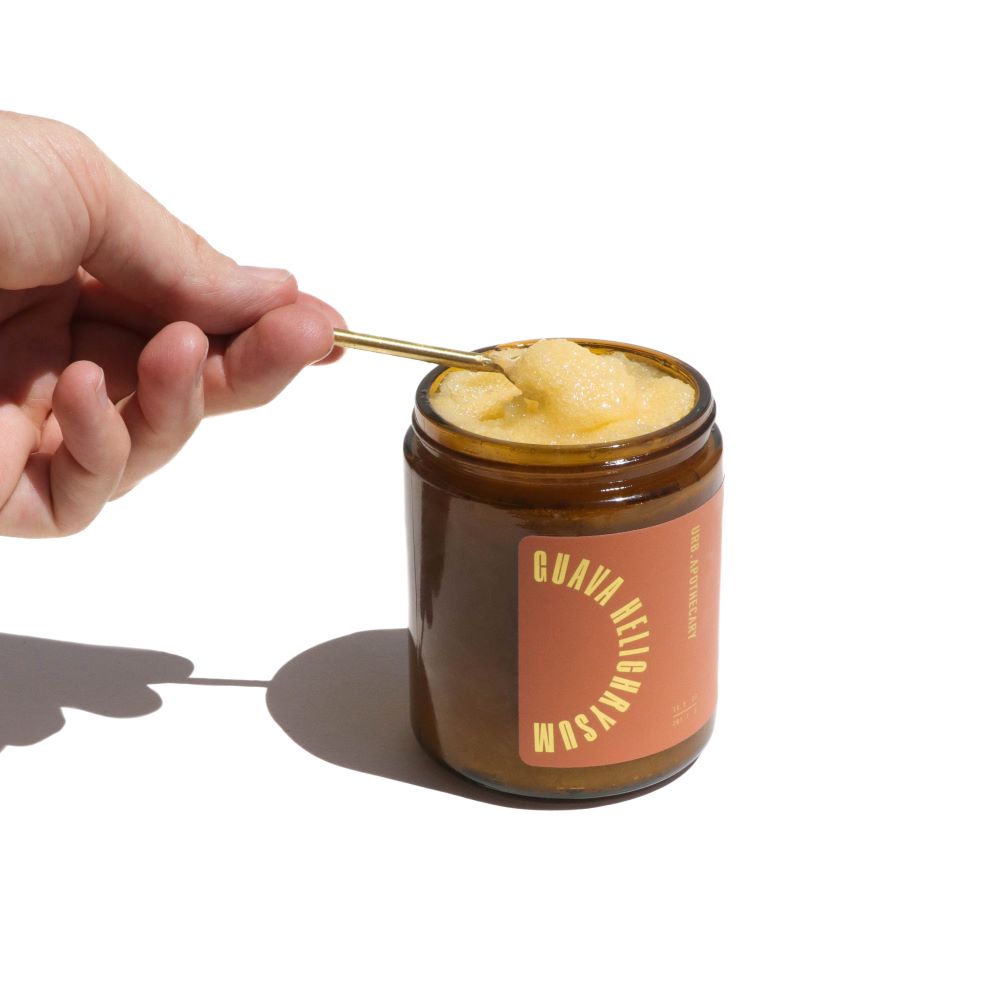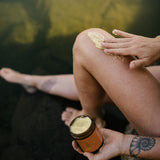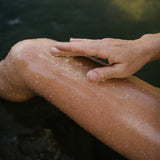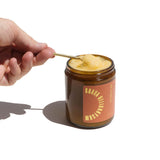 GUAVA HELICHRYSUM ILLUMINATING SHEA BODY SCRUB
---
Description

Indulge in the luxurious Guava Helichrysum Shea Body Scrub, a heavenly blend of guava and helichrysum essential oils infused with nourishing shea butter. This invigorating sugar scrub gently exfoliates and seals in moisture, leaving a subtle scent of osmanthus and vetiver on your irresistibly smooth skin.

Elevate your shower routine with the shea butter and exfoliating sugar particles in this scrub as they gently buff away dead skin cells, revealing a soft and radiant complexion.
How to use

Best used as the final step in your shower routine. Massage a quarter-size amount onto each limb in light circular motions, rinse off the sugar, and towel dry to reveal silky luminous skin.
Ingredients

GUAVA SEED OIL is prized for its skin-nourishing properties. Packed with antioxidants like vitamins A, C, and E, it helps protect against environmental damage, while its essential fatty acids maintain skin's moisture barrier, promoting hydration and suppleness. The oil's anti-inflammatory qualities can soothe irritation and redness, making it useful for sensitive or acne-prone skin. Additionally, its potential to stimulate collagen production contributes to improved skin elasticity and a reduction in the appearance of fine lines and wrinkles.

HELICHRYSUM ESSENTIAL OIL offers valuable benefits for the skin. Known for its potent anti-inflammatory and antioxidant properties, it can help soothe skin irritations, redness, and swelling. The oil's regenerative qualities may aid in the healing of scars, wounds, and blemishes by promoting healthy skin cell turnover. Helichrysum oil's potential to improve blood circulation could contribute to a more even skin tone and enhanced overall skin vitality. However, due to its potency, it's important to use this essential oil in diluted form and perform a patch test, especially for sensitive skin types.

JOJOBA OIL is a versatile skincare ingredient known for its benefits. Its molecular structure is similar to natural skin sebum, making it an excellent moisturizer that doesn't clog pores. Rich in vitamins and minerals, it helps soothe and hydrate dry or irritated skin, and its non-greasy texture makes it suitable for various skin types. Jojoba oil's natural anti-inflammatory and antioxidant properties also contribute to its potential to promote healthier, balanced skin.

MURUMURU BUTTER is a skin-loving ingredient with notable advantages. Derived from murumuru palm seeds, it's rich in essential fatty acids that deeply moisturize and soften the skin. Its high content of lauric acid provides antimicrobial properties that can be beneficial for certain skin conditions. The butter's emollient nature forms a protective barrier, locking in moisture and enhancing skin elasticity. These qualities make murumuru butter a valuable addition to skincare products aiming to nourish, soothe, and improve overall skin texture.

SHEA BUTTER is a prized skincare ingredient recognized for its numerous benefits. Packed with vitamins A and E, it nourishes and hydrates the skin, promoting a smoother and more supple appearance. Its rich fatty acid content helps lock in moisture and soothe dry or irritated skin, making it a go-to solution for issues like eczema or dermatitis. Additionally, shea butter's anti-inflammatory and antioxidant properties contribute to its effectiveness in supporting skin health and protecting against environmental stressors.

Unrefined Saccharum officinarum*(sugar cane), Butyrospermun parkii* (shea) butter, Psidium guajava (guava) seed oil, Simmondsia chinensis* (jojoba) oil, unrefined Astrocaryum murumuru (murumuru) butter, Osmanthus Fragrans (osmanthus) wax, Vetiveria zizanioides (vetiver) essential oil, Helichrysum italicum* (helichrysum) essentail oil, amor *organic ingredient

More

CAUTION This may make the shower floor or tub slippery.

Each product is made by us in-house in small batches and there may be some variation from batch to batch but ratios remain the same.

*These statements have not been evaluated by the FDA. This product does not intend to treat, diagnose, cure, or prevent any disease. If you're pregnant, breastfeeding, or on any medications, please consult with a qualified health professional before beginning any new herbal products.
---






Free shipping on orders over $125
GUAVA HELICHRYSUM ILLUMINATING SHEA BODY SCRUB